Small Groups
Our small groups provide a way to connect with others and foster relationships on a deeper level than is often possible in our daily lives. These provide opportunities to really listen to others and to be heard by them, for we believe we are most truly human when we are able to be in authentic relationship with others.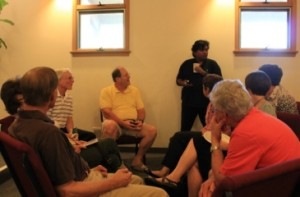 Please check the church calendar for dates and times.
Soul Matters Groups
Ongoing discussion groups, each with about eight participants, focus on our monthly ministry themes. Using UU Soul Matters materials, participants work through activities during the month. They then come together at monthly meetings for thoughtful reflection, led by a trained facilitator. To join a group, please contact our office administrator at info@2uomaha.org.
Dementia Caregivers Support Group
Many people cope with the challenges of caring for loved ones suffering from various forms of dementia. The Dementia Caregivers Support Group meets in person at church, as well as by Zoom, monthly on second Mondays at 7:00 pm. We support each other by sharing our stories of challenge, frustration, successes, joys, and blessings. Although we cannot provide professional advice or services, we do offer compassionate companionship along the dementia journey. All are welcome. To join this group, please contact our office administrator at info@2uomaha.org.
Open Arms Trans Social Group (OATS)
Transgender youth, their friends and families from throughout the region gather for a meal and social time on the third Saturday of the month from noon to 2:00 pm at the church. Learn more about OATS.
Religious Naturalists of Unitarian Universalism (RNUU)
This group is open to all and meets on the third Friday of the month at 6 p.m. at the church. As participants explore a specific topic or book, they reflect and discuss the intersections of faith, science and nature.
Writing for Spiritual Growth
This group meets on the second Saturday of the month at 10:30 am via Zoom. Participants express their creative side through writing in a safe and nurturing environment. Contact our office administrator at info@2uomaha.org for the Zoom link.