Serving Our Community
In addition to our focused efforts in LGBTQ justice, racial justice and Omaha Together One Community, we serve our community through donations, programming support and volunteering.
Share the Plate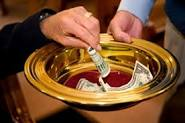 Since 2011 we have donated half our offering each Sunday to charitable organizations. We call this Share the Plate!
We select a new organization every other month. During worship we learn about the recipient's social justice program. Then at the end of two months, we award half the collected offering to the organization.
View our current and past Share the Plate recipients.
We accept nominations from church members via our Share the Plate Nomination Form.
Programming Support
We also look for opportunities to support organizations that provide quality programming to the community.
KIOS – We underwrite "All Things Considered," a National Public Radio program aired on our local affiliate, KIOS.
River City Mixed Chorus (RCMC) – We sponsor ads in the programs of RCMC, Omaha's volunteer chorus of gay, lesbian, bisexual, and transgendered persons and their straight allies (GLBTA). RCMC is known for "creating exceptional musical experiences to support diversity, inspire change, and empower communities."
Other Support
Habitat for Humanity – We take part in Habitat's Faithful Builders projects to help build homes for refugee families. More about our involvement.
Refugee Empowerment Center – Church members provide holiday gifts for children and adults through the Refugee Empowerment Center.