Serving Our Community
We provide donations and other types of support to local organizations to further partnerships and effect positive change in the greater Omaha community.
Share the Plate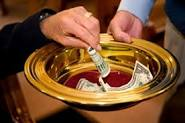 Since 2011 we have donated half our offering each Sunday to social justice agencies. We call this Share the Plate!
During worship on the first Sunday of each month, we learn about the month's recipient and hear a few words about its social justice program. At the end of the month, we award half the month's offering to the agency.
View our current and past Share the Plate recipients.
We accept nominations from church members and affiliates via our Share the Plate Nomination Form.
Programming Support
We look for opportunities to support organizations that provide quality programming to the community.
Film Streams and University of Nebraska at Omaha Women's and Gender Studies – We partnered with these organizations to promote their film series Gender Revolt! A Celebration of Queer Cinema. This series of films and post-film discussions sought to increase community awareness of the histories, lives and cultures of LGBTQ persons.
KIOS – We are underwriters of "All Things Considered" and "Morning Edition," two well-respected National Public Radio programs aired on KIOS, Omaha's public radio station.
River City Mixed Chorus (RCMC) – We sponsored ads in the programs of RCMC, Omaha's volunteer chorus of gay, lesbian, bisexual, and transgendered persons and their straight allies (GLBTA). RCMC is known for "creating exceptional musical experiences to support diversity, inspire change, and empower communities."
The Rose Theater – We sponsored ads in the playbills of the Rose Theater, an organization committed to enriching the lives of children and families through live theater and arts education.
Other Support
Refugee Empowerment Center – Church members provided holiday gifts for children and adults through the Refugee Empowerment Center.