LGBTQ Justice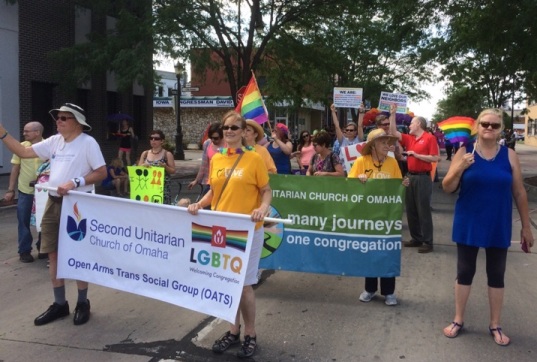 Second Unitarian Church is a place where
all
p

e

o

p

l

e

are welcomed!

As a Welcoming Congregation, we intentionally welcome people who are Lesbian, Gay, Bisexual, Transgender, or Queer (LGBTQ), as well as those who are Questioning and their Allies. Second Unitarian extends a special welcome to those searching for a religious home that welcomes your full identity.

Our congregation works with Omaha-area organizations as well as other LGBTQ-friendly congregations to support equal rights for all people without regard to their sexual orientation or gender identity.
LGBTQ Justice Work
We monitor and research city and state-wide legislation affecting LGBTQ people. We have coordinated panel discussions, hosted informative speakers and conducted worship services in support of National Coming Out Day. Our congregants march in the Heartland Pride parade and host booths at LGBTQ-focused events.
Join our Social Justice Committee to help coordinate our local LGBTQ justice work. We typically meet after the worship service on the third Sunday of the month. Note: We currently meet via Zoom. Contact info@2uomaha.org to request a Zoom invitation.
Open Arms Trans Social Group (OATS)
In early 2012, we saw a need for and initiated a group for transgender youth in the Omaha metro area. Participants named it the Open Arms Trans Social Group (OATS).
Today, OATS draws young people from well beyond the Omaha area. Youth, young adults and their families support one another at monthly meetings at Second Unitarian Church. Participants share not only their hopes and concerns, but also clothes, advice, resources, and emotional sustenance. A meal is provided.
Welcome to a community of friends and family:
Where you can be your true self.
Where you can ask your questions.
Where you can share your struggles and hopes.
Where you can give and receive support.
Where you won't be alone.
Contact us at oats@2uomaha.org for more information. Join our Facebook group at https://www.facebook.com/groups/219970234826242
National Work
Learn more about the Unitarian Universalist Association's LGBTQ justice work.