Next Service

Beauty is a sacred and spiritual concept in many cultures and religious/philosophical systems.

What connects beauty and the sacred? What can we learn from other traditions about this connection?
Our Stories
When we moved here from Seattle with our two-year-old daughter in 2010, we wanted a community that shared our values of social justice, freedom of thought, and inclusion. Read the full testimonial.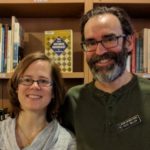 Pete and Carolyn Miller