Sunday Morning
We welcome you to our Sunday morning worship services!
If attending in person, be sure to stop at the Welcome Desk located in our foyer to receive information about our faith, to ask questions and make yourself a name tag. You may also fill out a connection card to sign up for our e-news and to indicate activities you have an interest in.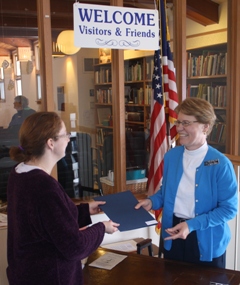 Sunday morning programming includes:
Worship 10:30 a.m.
Available in person or online via Zoom. You may access the Zoom link on each upcoming worship service posting.
Our sermons are intended to comfort and to challenge the mind, the heart and the conscience. During worship, we create the sacred space to celebrate life in all of its wonder, beauty and sorrow. Learn more about:
Our Worship Services
Upcoming Services
Children's Religious Education 10:30 a.m. (monthly)

Typically, on the first Sunday of the month, children pre-K through age 12 meet downstairs for stories, discussion and activities pertaining to our monthly theme and to enjoy time with each other. All other Sundays, children and adults join together for child-friendly, all-ages worship services in our sanctuary. Learn More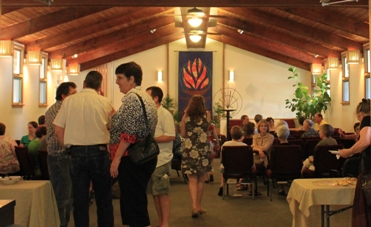 Fellowship and Refreshments
11:30 a.m.
If attending in person, we invite you to join us for beverages and the opportunity to visit with our members after worship services.
If attending via Zoom, we invite you to join a breakout "room" to visit with our members.
Our congregants are friendly, interesting and sincere, and they enjoy welcoming guests.
Have a question before your first visit? Contact Us here. We look forward to meeting you!