Sunday Morning
NOTE: Sunday morning worship services currently happen online via Zoom. As Sunday draws near, you will find a Zoom link displayed on the upcoming worship service posting on this website. You may also sign up for our weekly eNews to receive worship service information and Zoom links in your email inbox. We hope to see you soon!
---
When in-person worship resumes, the following is what you can expect to find at Second Unitarian:
Welcome to Second Unitarian Church! Be sure to stop at the Welcome Desk located in our foyer to receive a gift and information about our faith.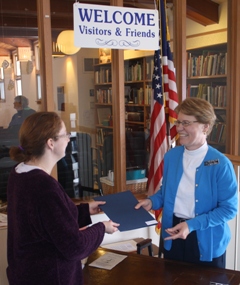 Sunday morning programming includes:
Worship 10:30 a.m.

Our sermons are intended to comfort and to challenge the mind, the heart and the conscience. During worship, we create the sacred space to celebrate life in all of its wonder and sorrow. Learn more about:
Our Worship Services
Upcoming Services
Children's Religious Education 10:30 a.m. 

Children pre-K through age 12 share stories and learn through discussion and activities. If you're visiting and wish for your child to stay with you in worship, or for you to attend their class, please feel welcome to do so! More
Nursery Childcare
Childcare is offered for children up through around age four. However, we are always welcoming to babies staying with their parents during the worship service. We also provide a rocking chair in the foyer if parents feel the need to take their baby out of the worship service.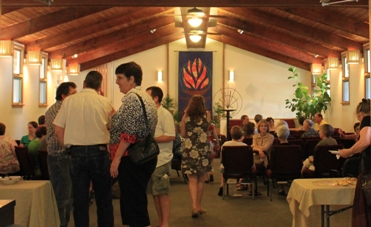 Fellowship and Refreshments
11:30 a.m.

Please join us for coffee, snacks and the opportunity to visit with our members after worship services. Our members are friendly, interesting and sincere, and they enjoy welcoming guests.