Eyes Wide Open: The Human Cost of War
National Guard Memorial
at Second Unitarian Church of Omaha
June 18, 2006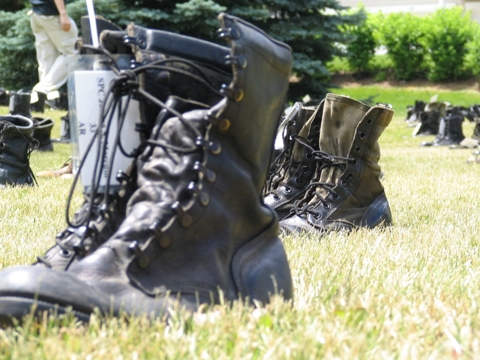 On Father's Day 2006, the solemn and respectful traveling exhibit, Eyes Wide Open: The Human Cost of War, graced our church lawn. Created by the American Friends Service Committee (AFSC), this memorial exhibit honored fallen U.S. National Guard personnel, showing the human cost of the Iraq War.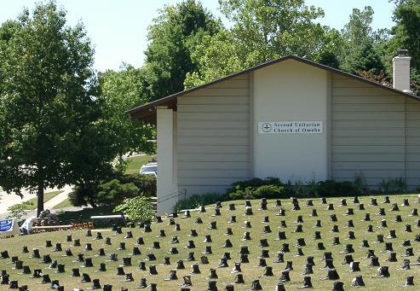 On display were a pair of combat boots for each National Guard soldier killed, each tagged with their name, rank, age, and home state. Other shoes and placards honored the 50,000 to 100,000+ Iraqi civilian casualties. Pictures from cities on the national tour and more information is available from www.afsc.org/eyes. The Omaha Display was co-sponsored by AFSC, Second Unitarian Church, Nebraskans for Peace, and Peaceful Tomorrows.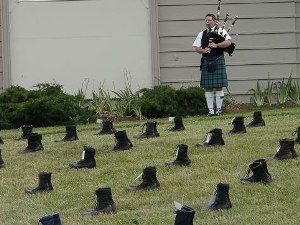 The public, as well as families of the fallen, were invited to spend some time in this reverent and memorial space. At 1:30 p.m. the names of the National Guard personnel killed in Iraq were read. In every city where the display appeared, family members expressed appreciation and thanks that their loss was remembered.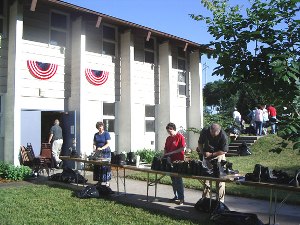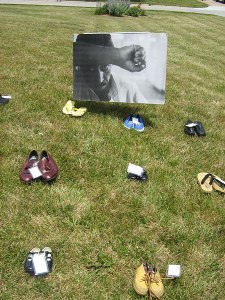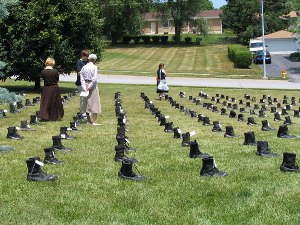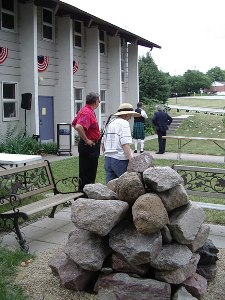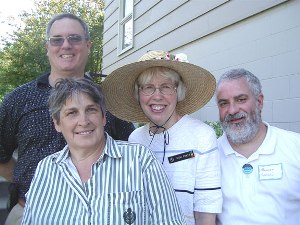 A few of the leaders who made this exhibit possible: Steve Powell (Second Unitarian), Kathleen McQuillen (AFSC), Vicki Pratt (Second Unitarian), and Richard Baltaro (Omaha Friends). Photo by Mary Bamesberger
---