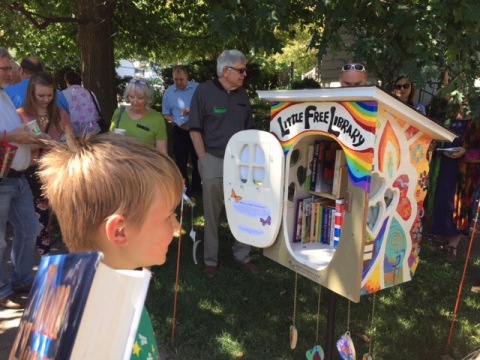 We gathered to dedicate our Little Free Library on Sunday, June 18th. We built this library for our community. Second Unitarian Church has been in the Prairie Lane neighborhood for nearly 50 years and wanted to give something back to our neighborhood home. Our congregation seriously loves books, as our yearly book sale attests as well as our recent book communion! We are happy to share this passion by constructing this library for you.
Thank you to all who helped build our library. As a service learning project, our children, youth and adults worked together on this — everything from cutting the plywood sheets, to decorating the walls, to hammering the last roofing nail home. This is now one of over 56,000 little free libraries around the world, with 50 in Omaha alone.
We are now open for business, providing our neighbors a place to walk to, exchange books at no charge and to be in community.