Small Groups
Our small groups provide a way to connect with others and foster relationships on a deeper level than is often possible in our daily lives. These provide opportunities to really listen to others and to be heard by them, for we believe we are most truly human when we are able to be in authentic relationship with others.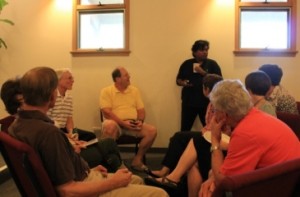 Please check the church calendar for dates and times.
Meditation Group – Meets monthly to learn and practice the art of meditation.
Parents Group – Join First and Second Unitarian parents of young children for POP's (Parents of Preschoolers) Potluck Nights during the school year.
Open Arms Trans Social Group – Holds a potluck meal and social gathering on the third Saturday of the month from noon to 2:00 pm at the church for transgender youth and young adults and their friends and families. Visit the Open Arms Trans Social Group website at openarmsomaha.com.
2UUsday Circle – Meets on the second Tuesday afternoon of the month to hear informative speakers and for socialization.
Writing for Spiritual Growth – Meets monthly to express spirituality through poetry and prose.
Spiritual Education Classes – Various classes and workshops are offered throughout the year to help you deepen your spiritual journey.