Nursery and Childcare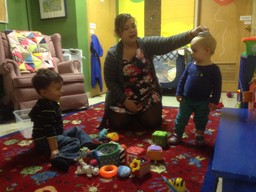 We offer Free Childcare for infants and toddlers (usually up to around age 4) in our lower level nursery during services and some special events.
Some parents may prefer their children or infants to stay with them during worship, and we welcome that. That joyful noise connects us to the life cycle and the youthfulness in each of us. Sometimes as parents, we feel the joyful noise is a little too much, and for that we also provide a rocking chair in the foyer. In addition, we offer coloring pages, crayons, and soft toys that we encourage parents and children to take into the sanctuary, especially when we have Whole Congregation Worship.
The childcare program is led by qualified, paid staff, who are background checked for the safety of our youngest congregants and visitors.