Suggested Readings
We offer these suggested readings based upon the Unitarian Universalist Association's annual Common Read program. A Common Read can build community in our congregation by giving diverse people a shared focus for reflection and action. A Common Read can take us on a powerful faith journey as we explore what it means to be human and accountable in a pain-filled world.
2023-24 UUA Common Read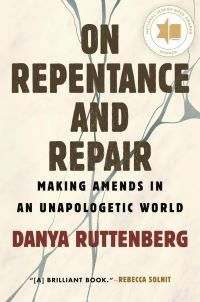 This year's Common Read selection is On Repentance and Repair: Making Amends in an Unapologetic World by Rabbi Danya Ruttenberg (Beacon Press, 2022).
On Repentance and Repair offers a glimpse into one of our faith's foundational sources, Judaism. Readers explore the call to accountability as we follow Rabbi Ruttenberg into a framework for making amends offered by the 12th century Jewish physician and scholar, Maimonides.
Rabbi Ruttenberg invites readers of any faith to explore practices for accountability that can bring us into wholeness and really make a difference in our personal, community, and national relationships.
Previous Common Reads
2022-23: Mistakes and Miracles: Congregations on the Road to Multiculturalism by Nancy Palmer Jones and Karin Lin
2021-22: Defund Fear: Safety Without Policing, Prisons, and Punishment by Zach Norris.
2020-21: Breathe – A Letter to My Sons by Imani Perry.
2019-20: An Indigenous Peoples' History of the United States by Roxanne Dunbar-Ortiz. Also, An Indigenous Peoples' History of the United States for Young People adapted by Jean Mendoza and Debbie Reese.
2018-19: Justice on Earth: People of Faith Working at the Intersections of Race, Class, and Environment, edited by Manish Mishra-Marzetti and Jennifer Nordstrom.
2017-18: Centering: Navigating Race, Authenticity, and Power in Ministry, edited by Mitra Rahnema. Also Daring Democracy: Igniting Power, Meaning, and Connection for the America We Want, by Frances Moore Lappé and Adam Eichen.
2016-17: The Third Reconstruction: How a Moral Movement is Overcoming the Politics of Division and Fear by The Rev. Dr. William Barber II and Jonathan Wilson-Hartgrove.
2015-16: Just Mercy: A Story of Justice and Redemption by Bryan Stevenson.
2014-15: Reclaiming Prophetic Witness: Liberal Religion in the Public Square  by Paul Rasor.
2013-14: Behind the Kitchen Door by Saru Jayarama.
2012-13: The New Jim Crow by Michelle Alexander.
2011-12: Acts of Faith by Eboo Patel.
2010-11: The Death of Josseline: Immigration Stories from Arizona's Borderlands by Margaret Regan.
More In Our Church Library
Check out our church library for these and other justice-focused books and DVDs. View our library catalog.