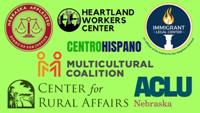 One half of our September offering will be donated to the Raid Relief fund, sponsored by the Multicultural Coalition of Grand Island. Along with the Multicultural Coalition, the ACLU of Nebraska, Center for Rural Affairs, Centro Hispano Comunitario de Nebraska, Heartland Workers Center, Immigrant Legal Center, and Nebraska Appleseed have come together in response to the Immigration and Customs Enforcement raids across central Nebraska. These Nebraska immigrant advocacy organizations condemn the arrests of hard-working Nebraskans.
Please give to mobilize efforts and get needed items into the hands of families separated or affected by the recent raids in O'Neill, Nebraska. The donations will be provided in direct assistance to the affected families through gas cards, Visa gift cards and support for emergency needs like food, water, clothes, rent, gas, utilities, and more! The ongoing needs in O'Neill, Nebraska are tremendous.
If you know of a local charitable organization that you would like to nominate for Share the Plate, please complete the nomination form that can be found in the orange folder on the church office door.