Libraries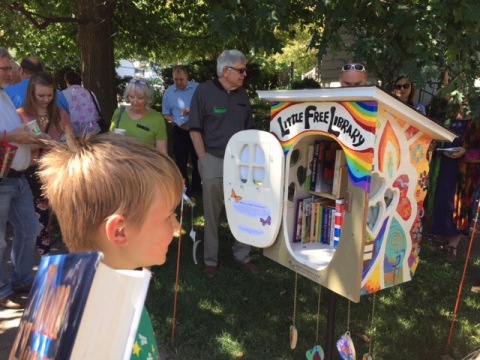 At Second Unitarian, we technically have 5 libraries. Yes, we Unitarian Universalists love to read!
Main Church Library
Located in the rear of the sanctuary, our Macyl Boruff Memorial Library includes books in the following categories.
| | | |
| --- | --- | --- |
| Bible | History | Self Help |
| Biographies | Humanism | Social Justice |
| Christianity | Inspirational Readings | Spiritual Growth |
| Church Administration | Judaism | Unitarian Universalist |
| Death & Dying | Local Authors | Women's Studies |
| Eastern Religions | Native American Studies | World Religions |
| Parents Resources | Philosophy & Ethics | Worship Service Resources |
| Green Sanctuary or Nature | Religious Education | |
Little Free Library
Standing in a shady spot near our peace cairn and park benches, both our congregation and our church neighbors enjoy this library. Constructed by the children, youth and teachers in our Religious Education program, the above photo shows us dedicating our little library on June 18, 2017.
Parent's Library
If you are looking for support as a parent, ideas or guidance, our Parent's Library has some resources for you. There are books about creating family ritual and traditions, reaching out to your teen and our changing identities as parents.
Our Whole Lives (OWL) Library
This library contains books that are for the individuals and families taking an OWL class. During times when the class is not in session, these books are available for anyone. View the titles.
Children's Library
This contains books families can check out to share together. We have it broken up into general topic sections:
Arts, Crafts, Games and Activities
Biographies
Coloring Books
Death & Dying
Environmentalism
Evolution
Fun Kid Books and Early Readers
God and Prayer
Golden Rule
Little People, Big Book (a series of books)
Nature
Seasons & Holidays (for world religions)
Self/Identity
Values
World Religions

Abrahamic Religions (Christianity, Judiasm, Islam
Earth-Centered & Indigenous Faiths
Eastern Religions (Buddhism, Hinduism, Taoism)