Pre-K to Early Readers
How do you do Montessori at church?
Spirit Play is a Montessori-prepared classroom where young minds are allowed to creatively explore the Seven UU Principles (or "promises" as they are called for this group) through lessons on UU history, the principles and sources. As children transition from playing in parallel to interacting with other children and into reading, this classroom lets them grow without restriction while encouraging their naturally curious nature. We let parents decide when their child is ready to move up to this classroom from the nursery. And, likewise, when they are ready to move out of this classroom.
Below is a long, detailed description of what our typical spirit play class is like. We find that the children enjoy this classroom quite a bit, and as it hints to below, it's usually one of the quietest classes we have! The description is adapted from Nina Penfold's Spirit Play curriculum.
Imagine a room with shelves filled with baskets and trays of colorful materials, some made of felt, some of laminated pictures, some of wood. Each child is greeted by name at the door by a doorkeeper and helped to quiet for entrance into the room, helped to "get ready" to enter a sacred space, a place where he or she can move more quietly and speak more slowly, a place where they have "all the time they need" to work with their questioning.
This is Spirit Play in a Sunday morning church school format.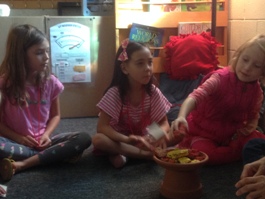 The storyteller invites the children present to take a seat at the circle. S/he leads them in our rock chalice "lighting" to bring them into the circle. At this moment, the children have a chance to share what is going on in their lives — the joys and concerns of their young lives are shared and listened to, as they are with the rest of their family in other classrooms and upstairs. Then, everyone is ready to hear the story for the day. The story may be about one of the seven promises (principles) we make to each other as Unitarian Universalists or about one of our historical heroes or heroines. It may be about the scientific story of our creation or a story from the Buddha or Jesus. When the story is finished, s/he sits back and begins a series of open-ended questions, inviting the children to wonder with him/her.
In this context, children of all ages wonder about the nature of the mystery of God, having deep theological and philosophical discussions that would have rivaled those in my theological school classes. The storyteller is only the facilitator to this process; it is the children themselves who make their own meaning. No definitive answers are given; no questions with set answers are asked. Sometimes the storyteller will repeat a portion of the story if she feels that the children have missed something important.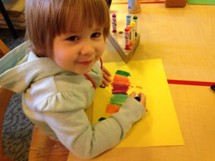 After the wondering, the children are invited to choose work for the morning, responding to the story in art materials, choosing to tell the story their way or how they felt about it in paint or construction paper or markers or clay. They can choose instead to work with a story that they have heard some other week, one that has called to them that day. A child might choose other work in the classroom such as building a sacred space with special blocks or decorating the altar table in the church corner. This choosing helps to lead the child into her own development, pulled by the materials to respond to an inner knowing rather than an outer imposition of activities. Some share work with a friend after receiving permission from the friend, some work alone, some right next to another, talking over their work.
The storyteller and the doorkeeper help the children as needed but act more as witnesses to the children's unfolding because the room has been set up so that children can be as independent as possible. Materials are limited. There is only one copy of each story so that children have to learn to share or wait their turn. There are only a few scissors or glue sticks or paint boxes for the same reason. The children negotiate their way into being in a community, learning what it means to be a Unitarian Universalist in a practical way. When necessary, the adults get down to the children's level to speak to them, either kneeling next to them or sitting on the floor. They do not talk over the children's heads but go to each other when they need to communicate. The room is set up for the children's community, not for the adults' convenience. For the most part, the adults observe and only interact with the children as needed.
A bell is rung when it is clean-up time. They put stories back on the shelves in the way they found them, clean up their paint or markers or paper. If their work is unfinished, it is saved on a tray or in a special place for another week. Sometimes they share a song, or a storybook is shared before parents return. Sometimes they talk about what is coming up in the church year. It is a time of fellowship and sharing. Then each child says goodbye to the storyteller and doorkeeper and is told to "go in peace." Children leave the space affirmed. Parents have told me that their children leave the Spirit Play space in a much calmer mood than previous Sunday School experiences. Some are reluctant to leave and want to show the parent what they worked on that day. Art responses are kept for the child to take home. The Storyteller and Doorkeeper talk about the morning as they make sure that materials have been put away and are ready for the next week.