Nursery
A safe place.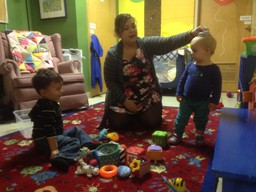 Free Nursery Childcare is offered for children up through Pre-K at the parent's discretion.
Some parents prefer their child to stay with them during worship: we welcome you! That joyful noise connects us to the life cycle and the youth in each of us. Sometimes, as parents, we feel the joyful noise is a little too much: for that, we provide a rocking chair in the foyer. There are board books in the "Pew Pages" cabinet as well as other quiet activities.
But we also understand if you wish to be fully present during the worship service. That's why we offer our nursery service.