Multigenerational
What is "Multigenerational Learning?"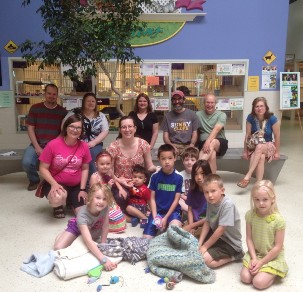 Multigenerational learning happens when a wide range of ages learn together. It may happen as a result of the curriculum. It may happen from the interactions between each other. Many times, the older we are, the more we get out of the experience!
One way our multigenerational learning happens is through a Service Learning Curriculum. We also have multigenerational services throughout the year so families can experience worship together.
Some parents prefer their child to stay with them during worship instead of attending Sunday school: we welcome you! If you need a moment outside the sanctuary, we provide a rocking chair in the foyer. There are board books in the "Pew Pages" cabinet as well as other quiet activities that can be taken back to the sanctuary.