Intermediate
Bringing Beliefs into Focus
The intermediate classroom is a dynamic one! Any parent will tell you this age is full of questions and observations. Since reading is a part of this class at times, we let parents decide when their child is ready to move out of the early readers class into this one. Generally it is filled with 2nd- thru 6th-grade students.
Love Connects Us is the curriculum just finished last spring. It took the covenant that we recite every Sunday upstairs:
"Love is the spirit of this church, and service its law.

This is our great covenant:

To dwell together in peace,

To seek the truth in love,

And to help one another."

– James Vila Blake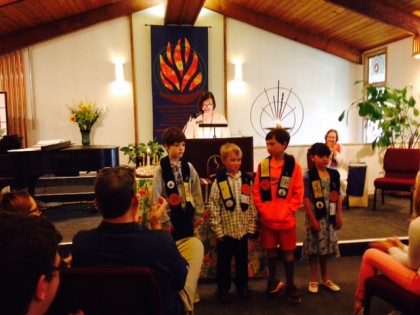 and brought it to life for the children. They broke the covenant apart — line by line, word by word — to learn what it truly means. This was done with activities that were also specifically geared towards the kinetic learners: we got up and moved about in this class!
This description is adapted from the Tapestry of Faith curriculum introduction.
Love Connects Us celebrates important ways Unitarian Universalists live our faith in covenanted community. Moved by love and gathered in spirit, we embrace our responsibility toward one another and the world at large. We encourage one another's search for truth and meaning. We strive to be active in peace-making and other efforts to improve our world.
This program will:
Introduce the covenant statement by the Reverend James Vila Blake, which many Unitarian Universalist congregations (including ours) use, and explore the covenant's key concepts.
Build Unitarian Universalist identity by highlighting people in our Unitarian and Universalist heritage who embodied the key ideas in the Blake covenant—people who sought truth in love, dwelled together with others in peace, and helped one another when called on to act.
Demonstrate that we actively create our living faith; we contribute to its legacy when we engage with others in community and work for peace and justice.
Reveal ways in which we are called to help one another and to encourage spiritual growth in our congregations.
Explore what it means for Unitarian Universalists to be connected by love and covenant rather than shared theological belief.
Love Connects Us was developed primarily with the kinesthetic learner in mind, offering myriad activities involving both small motor control and large muscle groups. Many participants in this age range need to move and benefit from the opportunity to physically explore new concepts. Many activities have an 'Including All Participants" section which offers specific adaptations to meaningfully include children with mobility and other limitations.