Lifespan Learning
Learning takes place throughout life. We are continually seeking and searching, learning and growing.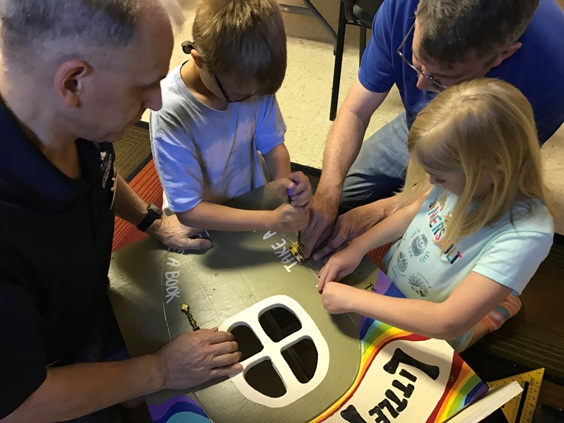 Religious Education at Second Unitarian Church of Omaha is taken seriously as children, teens and adults are encouraged to learn about different spiritual practices, different religious backgrounds, our distinct Unitarian Universalist history and beliefs, and social justice. We have a paid Director of Religious Education as a testament to our dedication to continually grow our minds.
We provide several different avenues for religious growth and learning for all ages at Second Unitarian. Here is an overview of what we offer:
Adult Religious Education: Learning doesn't stop just because you have a driver's license and can vote! As we continue to evolve, sometimes it's nice to join a group of people with a similar interest or goal. More
Youth Activities: We care a lot about our teens and strive to create a community where youth voices are respected not just as "the future" but also as the present. Our youth programs are geared towards 7th-12th grade students. Visit our Youth page to learn more about what we offer youth.
Service Learning Projects: If you're more of an active learner, you'll enjoy our Service Learning Projects. These are opportunities to enjoy hands-on learning while serving our community. More
Sunday Church School (during the school year): Sunday Church School takes place at the same time as the worship service: 10:30 a.m. Children and youth come downstairs before the church service starts, get their nametags and go to their appropriate classrooms. We also have whole church services frequently so that the entire congregation has the opportunity to worship and learn from each other. See more below.
Our Whole Lives (OWL): Our Whole Lives (OWL) goes beyond sex ed into self ed. This curriculum, with trained facilitators, teaches people of all ages confidence when making decisions about their bodies, answers questions about development, and involves parents/guardians and children in discussions about their family values. It is offered in six different age levels (Kindergarten through adult) and is designed for the concerns and abilities of each age. More
Small Group Ministries: Small groups such as Retiree's Group, Meditation Group and Writing for Spiritual Growth to name a few give folks a chance to meet on specific topics. More
Sunday Religious Education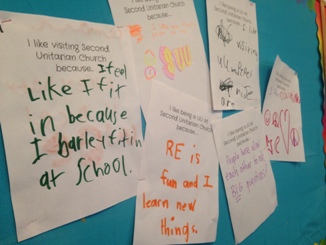 Unitarian Universalist (UU) curricula for children is unique among church schools in that it encourages questions, independent thought and the development of an internal moral compass. Each selected curriculum is appropriate for the age, comprehension, mental development, and interests of the child. We are currently offering two free classes. We encourage parents/guardians to sit down with their children who fall between two different levels and decide which level they wish to attend. It may be as simple as preferring one curriculum over another or wanting to be with friends. We can always move part way through the year if the fit is not right or the curriculum is not challenging or too challenging.
During the summer we reduce down to a one-room schoolhouse model. This summer, youth and adults in the congregation are sharing favorite stories and leading discussions each Sunday.
We usually have 3 classrooms during the school year:
Second Circle (5-8th grades): This tween group seeks advanced dialogue and challenging questions! Our curriculum helps them develop their own thoughts on their beliefs while lifting up the commonalities of our faith. Our curriculum will be tied into what is happening in the sanctuary.
Intermediate (early readers-4th grade): This is our classroom for confident readers through 4th grade. Our curriculum is also tied into what is happening in the sanctuary.
Spirit Play (a Montessori classroom for Pre-K thru early readers): In this classroom, the older children are models and assist the younger children setting them up for leadership and confidence. Our Montessori style classroom is different than a traditional classroom:
Teacher acts as guide into materials rather than leader

Prepared environment (child-sized): everything in the room has an assigned place and is available to the child for worktime

Other elements:structure and order, reality and nature, beauty, materials in sequential order, sensimotor materials (manipulatives)

Development of community life through mixed ages
Spirit Play is a proven educational method whose values support Unitarian Universalism:
Encourages independent thinking through wondering questions

Values learning differences and multiple styles of learning

Gives children real choices within the structure of the morning

Creates community of children in classroom of mixed ages

Develops an underlying sense of the spiritual and the mystery of life

Supports congregational polity through choice of lessons

Develops an identity as a Unitarian Universalist

Volunteers were found to value the program as part of their own spiritual process
If you have any questions, please contact our Director of Religious Education.